World's BEST Beginner Acoustic Guitar Package!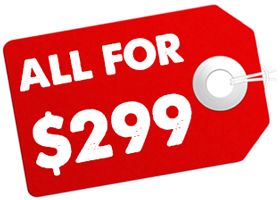 Includes our best selling    

    guitar with all the accessories you need.
---
Fender CD-60 Acoustic Guitar
If you are looking for a beginner guitar, the best choice you can make is getting a guitar with a sound and feel that will inspire you to keep playing. The Fender CD-60 is by far our best selling beginner acoustic guitar.  It is a genuine Fender that is made with quality materials and good craftsmanship, making this an excellent guitar that not only sounds great, but is dependable and will last for years.
For a limited time, we have paired this awesome guitar with some incredible accessories, creating what we believe to be a great beginner guitar package. This guitar is also an excellent choice for veteran players who need an inexpensive second guitar.

Package Includes:
– Fender CD-60 Acoustic Guitar
– Fender Hardshell Guitar Case
– Snark Clip-On Tuner
– Guitar Stand, Strap, and Picks
+ Our in-house guitar tuning, setup and inspection.
Available In Multiple Colors
ALL FOR $299
---
INCLUDED WITH THIS PACKAGE: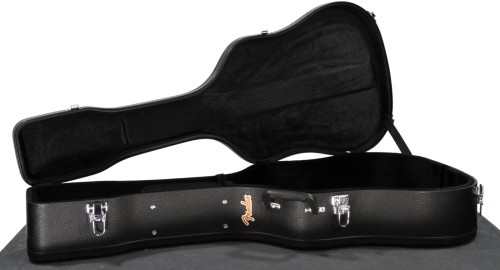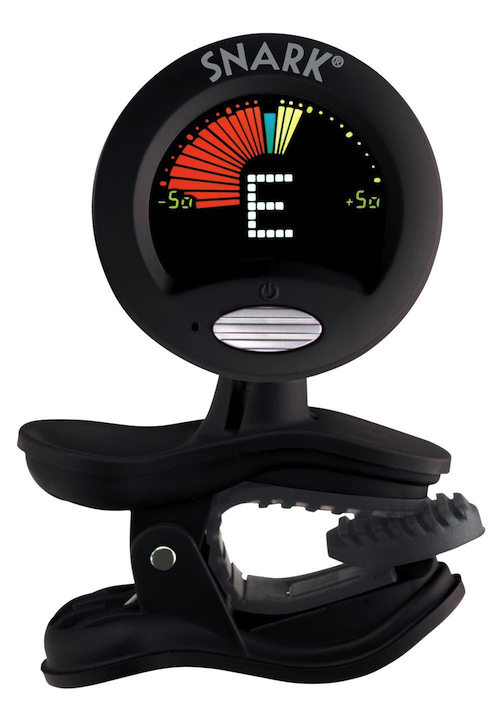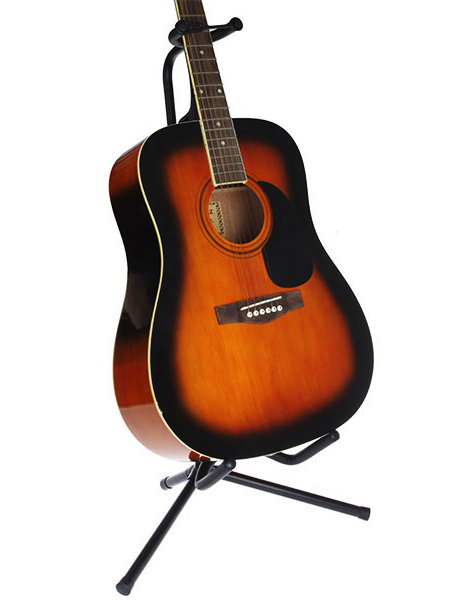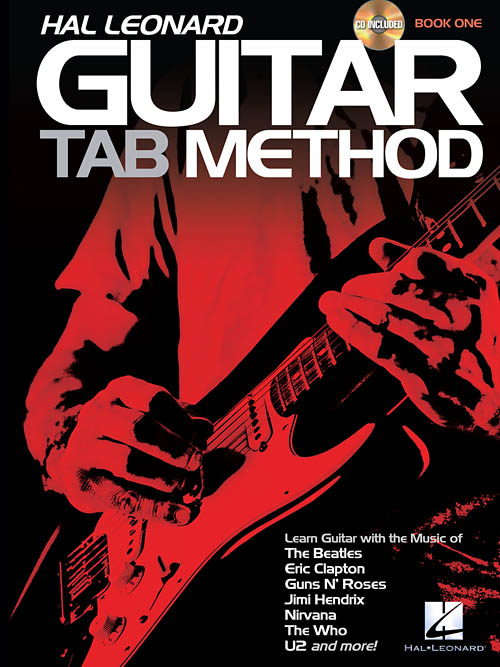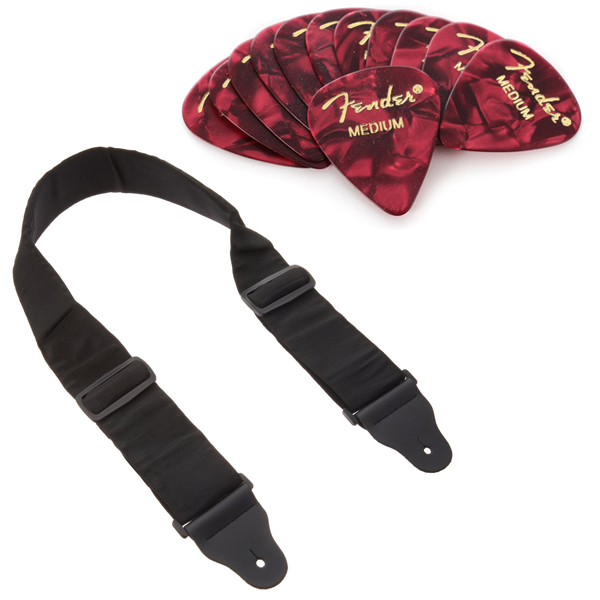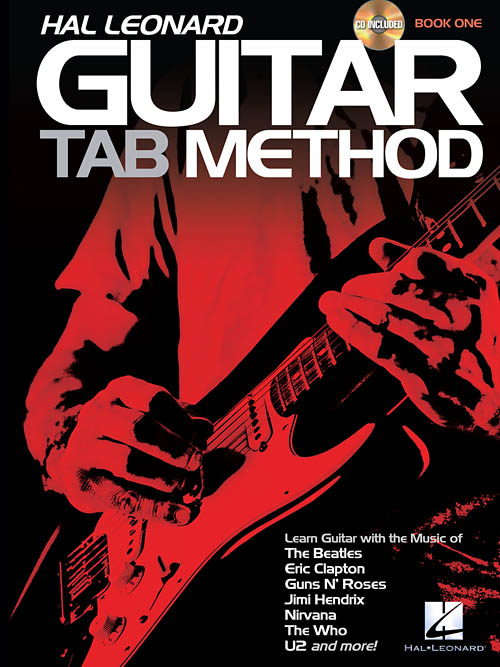 ---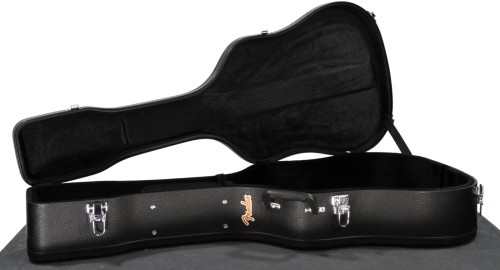 HARDSHELL GUITAR CASE
Value: $89.99
The Fender Dreadnought Acoustic Guitar Case offers all the durability and style modern players require, whether they're in search of a sturdy on-the-road or at-home storage solution. With its sleek black exterior and quality black plush lining, this heavy-duty protective case is built to withstand the rigors of the road and prevent damage to your acoustic instrument.
---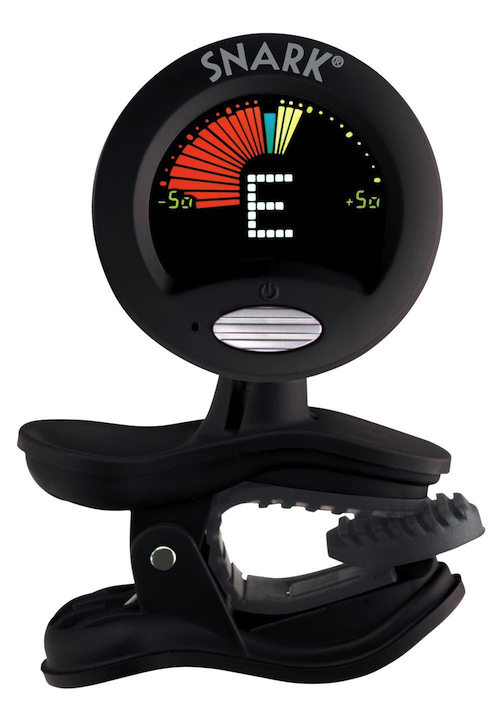 CLIP-ON GUITAR TUNER
Value: $21.99
The Snark Clip-On Chromatic Tuner makes tuning easy! It has a full-color display that rotates 360 for easy viewing, along with a sturdy clip that ensures it stays put on your headstock. Clip on feature allows you to leave it on your guitar while you are playing.
Not only can this tuner tune your acoustic or electric guitar, it is a chromatic tuner which means that it will work with many instruments including ukuleles, mandolins, banjos, violins, basses and more!
---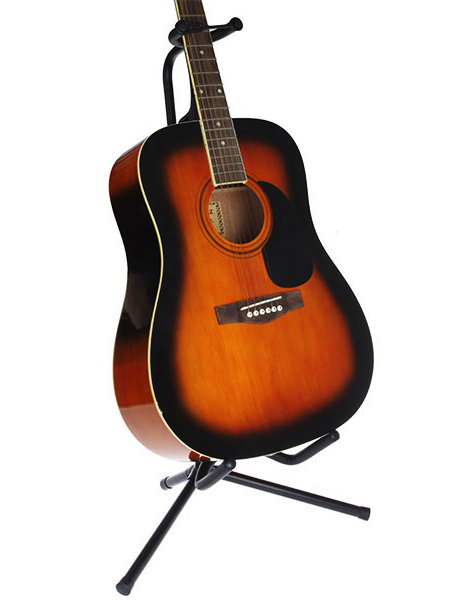 GUITAR STAND
Value: $19.99
Our most popular guitar stand! Features include:
Special velveteen rubber padding
Security strap
Thick, strong metal tubing
Adjustable height to accommodate acoustic, electric, or bass guitars.
This is sturdy stand will allow you to safely display your guitar!
---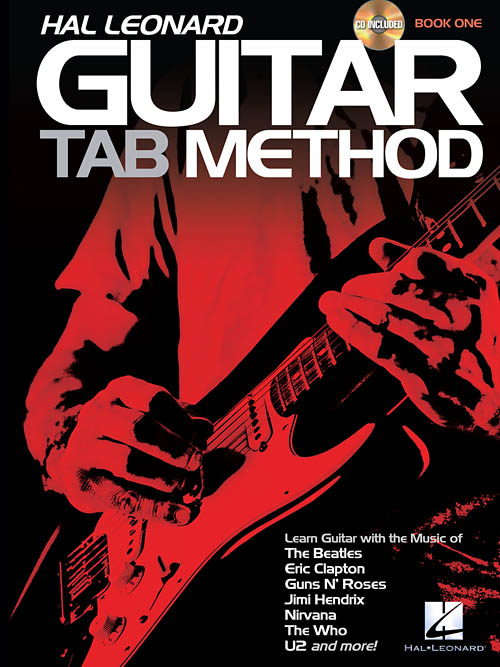 GUITAR INSTRUCTION BOOK FOR BEGINNERS
Value: $6.99
This is a guitar instructional book that simplifies the learning process and makes playing the guitar fun and easy. Learn single notes with riffs like "Day Tripper" and "Crazy Train," power chords with classics by AC/DC and the Who, strumming with songs from Neil Young and Nirvana, and much more. The method's unique, well-paced, and logical teaching sequence will get students playing more easily than ever before, and music from popular artists like the Beatles, Jimi Hendrix, and Led Zeppelin will keep them playing and having fun.
Topics and techniques covered include: parts of the guitar, easy-to-follow guitar tablature, notes & riffs starting on the low E string, tempo & time signatures, understanding notes and rests, palm muting, vibrato, power chords, open chords, strumming, slides and slurs, hammer-ons and pull-offs, many music styles, nearly 100 riffs and songs, and more!
---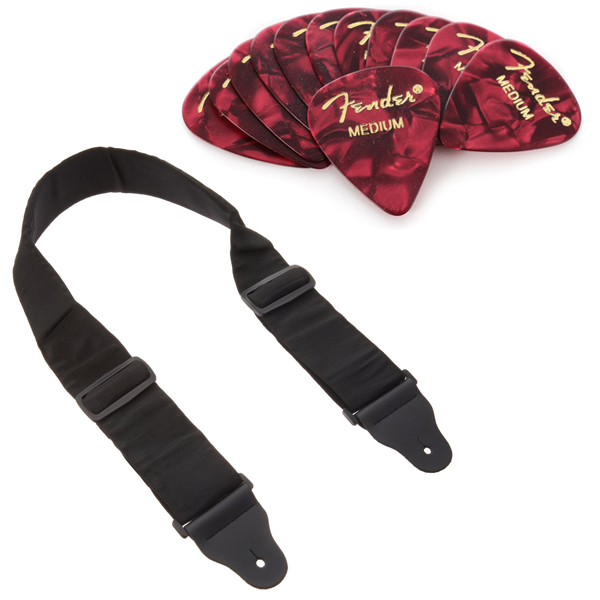 GUITAR STRAP & PICKS
Value: $17.99
We've included a 12-pack of Fender's most popular pick and an adjustable nylon guitar strap. Fender celulloid picks provide a traditional, comfortable feel and a warm musical tone. A perfect accessory for players of versatile styles and techniques. The 2" black polyester nylon strap has adjustable length of 31"-54", providing a versatile fit for all players.
---
Why Buy Your Instrument From Us?

---

At the end of the day, it isn't just about making the sale, it's about our customers being happy with their purchase. We first opened our doors in 1976 as a small, independent music store. We are proud of our shop and the solid reputation we have built over the past 40 years and our promise to our customers is simple: we stand by our products and our service. Whether you are shopping for a beginner guitar or searching for the guitar of your dreams, we are here to help you find exactly what you're looking for.
Our Promise To You
You Will Receive A Quality Instrument That Is Ready To Play
Every guitar and instrument that we sell receives a full inspection, tuning, and setup before we send it out the door. We aren't a big national chain or internet retailer that has hundreds of the same guitars stacked in a warehouse that haven't seen the light of day in who knows how long. We keep limited quantities of each product on hand, which means you are receiving a guitar that was recently received direct from the factory, has been inspected for flaws, and is properly tuned and adjusted so that it's ready to play right out of the box.

You'll Get The Best Price
We may be a small, independent operation, but we compete with the big boys when it comes to price. Compared to what you will find in other stores or anywhere else on the Internet, our guitars and instruments are priced the same or lower.
If you find a better price, let us know and we'll match or beat it.

We'll Make Sure You're Happy
Plain and simple, we want you to be completely satisfied with your purchase. If you are unhappy with any items that you buy in our store or online, simply let us know. We want to make it right!

We'll Handle Your Warranty
Instruments rarely need Factory Warranty Service, but when they do, it can be an extremely frustrating process for the customer. By dealing directly with manufacturers on your behalf, we can expedite warranty claims and often get manufacturers to make accommodations they wouldn't normally extend to end-consumers. Many retailers won't do this, but if you bought an instrument from us that turns out to have a defect or other problem, you better believe we have your back.
Our Current Seagull Guitar Inventory
These Seagull guitars are currently IN STOCK at our retail showroom. If you are in the area, be sure to visit our store to test out any of these models, or contact us to purchase online. We ship all over the United States and to most countries worldwide.
Acoustic Models
Seagull S6 Original $429.99
Seagull S6 Spruce Sunburst GT $469.99
Seagull Coastline S6 Spruce $469.99
Acoustic/Electric Models
Seagull Entourage Rustic Mini Jumbo $489.99
Seagull Entourage Rustic Concert Hall $499.99
Seagull Concert Original EQ $499.99
Seagull Entourage CW Black $549.99
Inquire About Placing A Special Order

AUTHORIZED DEALER
SPECIAL ORDER ANY
SEAGULL ACOUSTIC GUITAR
As an Authorized Seagull Guitar Dealer, we can special order any Seagull guitar direct from the factory. Contact us if you are looking for a specific model and we can get a time estimate and price quote for you.
INQUIRE ABOUT SPECIAL ORDERING A GUITAR
---
Our goal is to help you find the guitar you want at the best possible price. Tell us what you're looking for.
INQUIRE ABOUT SPECIAL ORDERING A GUITAR
---
Our goal is to help you find the guitar you want at the best possible price. Tell us what you're looking for.