Folk & String Instruments
While our main focus is on guitars, we do stock folk and string instruments including banjos, mandolins, violins, and ukuleles. Whether you're a beginner that wants to learn one of these instruments or you already play and are searching for your next instrument, we carry a variety of options that might be prefect for you.
---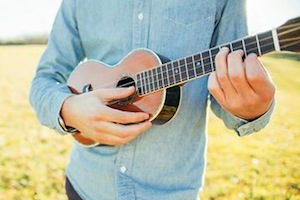 UKULELES
We offer a wide variety of ukuleles for all types of players, from beginners to advanced and kids to adults. Our selection includes soprano, concert, tenor, and baritone ukuleles and ranges in price from $50-$200. We also carry ukulele accessories such as cases, strings, songbooks and instructional materials.
Brands:
Amahi, Eddy Finn, Fender, Gretsch, Ibanez, Kala, Luna, and Makala
View Current Inventory
---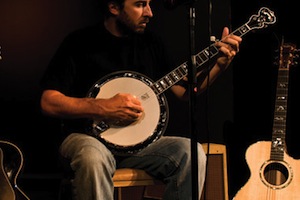 BANJOS & BANJITARS
We carry 5-string resonator and open-back banjos as well as 6-string banjos (or banjitars). We typically stock models in the $200-$1,000 price range.
Brands:
Fender, Gold Star, Gold Tone, Gretsch, Ibanez, Luna, Morgan Monroe, Recording King, Rover and Savannah.
View Current Inventory
---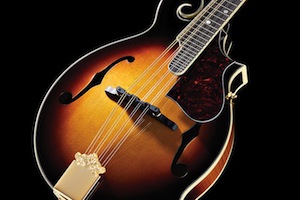 Mandolins
We stock mandolins that are perfect for beginner, intermediate, or amateur players as well as for guitar players who are looking to pick up the mandolin as second instrument. Our selection includes both A-Style and F-Style mandolins and typically ranges in price from $100-$600.
Brands:
Fender, Godin, Gold Tone, Gretsch, Ibanez, Kentucky, Loar, Luna, Rover, and Savannah
View Current Inventory
---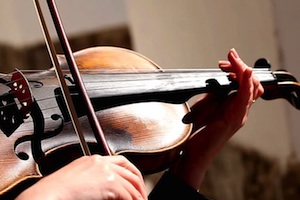 VIOLINS
We stock beginner and intermediate-level violins that are targeted towards students and amateur players. Our selection is priced between $150 and $500 and all violins include case, bow, and rosin. We also carry violin accessories such as strings, rosin, shoulder rests, and instructional books.
View Current Inventory
---
Why Buy Your Instrument From Us?

---

At the end of the day, it isn't just about making the sale, it's about our customers being happy with their purchase. We first opened our doors in 1976 as a small, independent music store. We are proud of our shop and the solid reputation we have built over the past 40 years and our promise to our customers is simple: we stand by our products and our service. Whether you are shopping for a beginner guitar or searching for the guitar of your dreams, we are here to help you find exactly what you're looking for.
Our Promise To You
You Will Receive A Quality Instrument That Is Ready To Play
Every guitar and instrument that we sell receives a full inspection, tuning, and setup before we send it out the door. We aren't a big national chain or internet retailer that has hundreds of the same guitars stacked in a warehouse that haven't seen the light of day in who knows how long. We keep limited quantities of each product on hand, which means you are receiving a guitar that was recently received direct from the factory, has been inspected for flaws, and is properly tuned and adjusted so that it's ready to play right out of the box.

You'll Get The Best Price
We may be a small, independent operation, but we compete with the big boys when it comes to price. Compared to what you will find in other stores or anywhere else on the Internet, our guitars and instruments are priced the same or lower.
If you find a better price, let us know and we'll match or beat it.

We'll Make Sure You're Happy
Plain and simple, we want you to be completely satisfied with your purchase. If you are unhappy with any items that you buy in our store or online, simply let us know. We want to make it right!

We'll Handle Your Warranty
Instruments rarely need Factory Warranty Service, but when they do, it can be an extremely frustrating process for the customer. By dealing directly with manufacturers on your behalf, we can expedite warranty claims and often get manufacturers to make accommodations they wouldn't normally extend to end-consumers. Many retailers won't do this, but if you bought an instrument from us that turns out to have a defect or other problem, you better believe we have your back.
Our Current Folk & Bluegrass Inventory
These folk and bluegrass instruments are currently IN STOCK at our retail showroom. If you are in the area, be sure to visit our store to test out any of these models, or contact us to purchase online. We ship all over the United States and to most countries worldwide.
Banjos
Harmony-Banjo $299.99
Ibanez-B100 $299.99
Fender-Rustler $339.99
Gretsch-Dixie 6 String $349.99
Gretsch-BroadKaster 5-String $449.99
Luna-6-String $369.99
Luna-5-String $379.99
Gold Tone-CC-100R $599.99
Samick Master Built $999.99
Mandolins
Harmony-H-MA1B $139.99
Gretsch New Yorker-G9300 $199.99
Fender-FM-52E $249.99
Ibanez-M5225-DVS $299.99
Ukuleles
Amahi-DDUK-Soprano-Rainbow Flower $59.99
Amahi-DDUK-Soprano-Orange Flower $59.99
Amahi-DDUK-Soprano-Pink Flower $59.99
Amahi-DDUK-Soprano-Blue Flower $59.99
Amahi-DDUK-Soprano-Wavy Rainbow $59.99
Amahi-DDUK-Soprano-Swirl $69.99
Amahi-UK140W-Soprano $69.99
Amahi-UK150W-Soprano $79.99
Amahi-UK2205-Soprano $99.99
Kayla-KA-S-Soprano $79.99
Kayla-KA-C-Concert $119.99
Kayla-KA-CG-Concert Gloss $129.99
Kayla-KA-T-Tenor $129.99
Kayla-KA-TG-Tenor Gloss $139.99
Makala-MK-SWB/BL-Aqua Blue $49.99
Makala-MK-SWB/GN-Sea Foam Green $49.99
Makala-MK-SWB/RD-Red $49.99
Makala-MK-S-Soprano $59.99
Makala-MK-C-Concert $79.99
Makala-MK-T-Tenor $89.99
Makala-MK-B $99.99
Violins
Palatino 4/4-VN450 Outfit $199.99
Maestro Feathlite Outfit $299.99
Used 3/4 Violin-Flame Maple $299.99
Inquire About Placing A Special Order
INQUIRE ABOUT SPECIAL ORDERING A GUITAR
---
Our goal is to help you find the guitar you want at the best possible price. Tell us what you're looking for.
INQUIRE ABOUT SPECIAL ORDERING A GUITAR
---
Our goal is to help you find the guitar you want at the best possible price. Tell us what you're looking for.